As complexity in sales increase, great templates for all parts of the funnel will increase your chance of winning more business. Ensure the correct use of your brand, while you streamline your sales process – here's why sales templates will work wonders both for both your brand and for your commercial organization.
Key takeouts below:
How to stay consistent
How to maintain sales momentum
How great brand integrity can halve your persuasion efforts
Sales process flow chart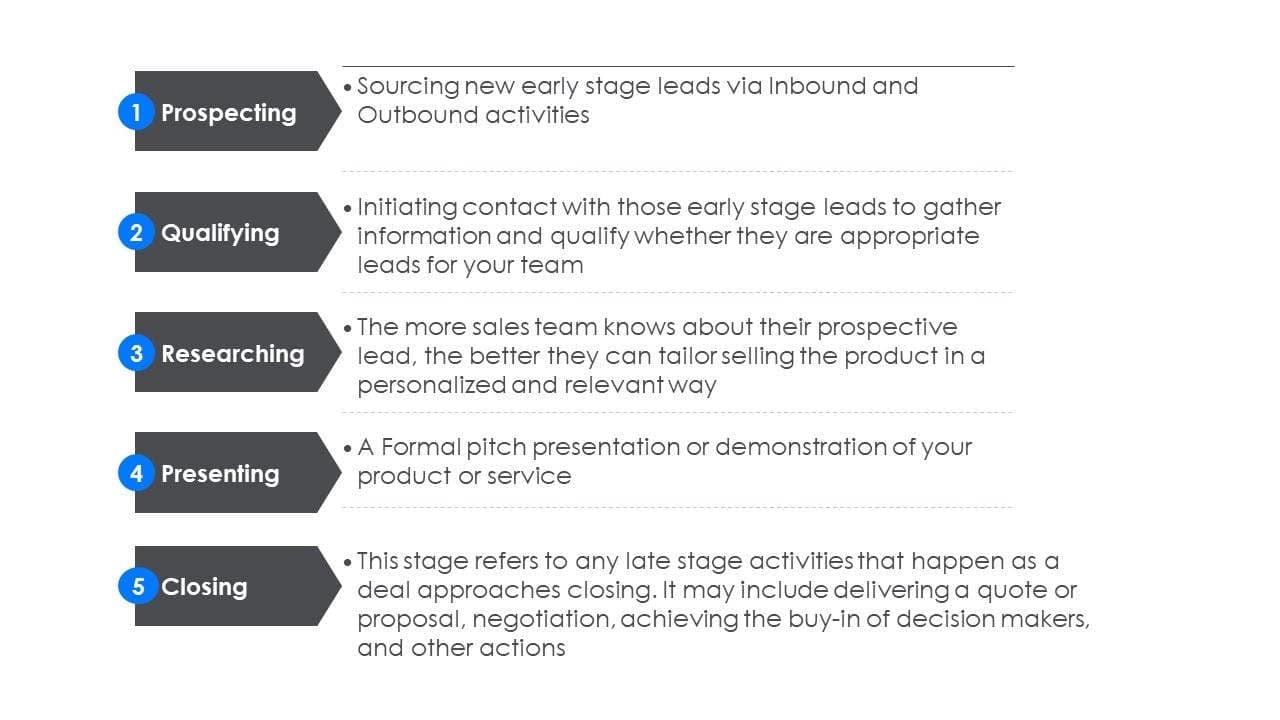 Whether you're an organization of 10,000 employees or an office of 50, the brand and business you represent matters, particularly in an increasingly competitive and demanding global marketplace. Not only is it key for building immediate trust with potential clients, but it provides an internal ecosystem and structure from which your teams (however big or small) can work effectively.
Sales is an art as much as a science. While your personal charisma, integrity and persuasion are key, it's nothing if you're not armed with the proper collateral to support business development and secure the sale. And we all know that creating those outbound emails, pitch presentations and quote documents can be extremely time-consuming…
But it doesn't have to be.
We've outlined a basic sales process that most businesses follow and the documents you typically need along the way. To get the inside knowledge, we spoke to our Head of Sales, Kristian Simonsen, who has almost 15 years of sales experience.
"The differentiator from having Templafy, is that everyone on the team knows where to find the correct sales material. Now it is right inside the applications that they use to create content. And we know that it gets used, because any sales person wants to get to the goal as quick as possible, and Templafy make tedious processes go away like the sun clears away the fog."
Making a good first impression
Let's take a standard sales process. It starts with the all-important emails - a potential foot in the door that could lead to a sale. But it's not only about the content of the email, it's about the first impression it gives. "What is at stake is the reputation of the employee and the company or organization." says Karen Kessler, president of Evergreen Partners, a crisis communication and reputation management company.
Are the brand elements correct? Is the communication the same? Is the story about your company and the number of clients the same as what the rest of your colleagues are telling people? Does the email have all the correct contact-details, should the client wish to follow up? And even more important: does it include the necessary legal footnotes? Too often this is not the case and it leads to lackluster first impressions and potentially misleading statements which can burn you further down the line.
To help keep this initial outreach and any follow ups as effective and time efficient as possible, Templafy hosts your library of sales email templates that can be personalized for the receiver all within Outlook. The library can be instantly and centrally updated with the latest logos, contact information and any details about recent product launches or services.
So much of the sales process hinges on knowing who you're targeting and tailoring your standard communication with them to make it as relevant as possible to that customer. This is one of the strengths of the Templafy solution.
As Kristian Simonsen, explains:
"..with Templafy, you can pick and choose from an updated email library, for instance divided into categories such as size of the prospect company, industry, level of awareness, referral or no-referral etc. The sky is really the limit to how granular you'd like your approach to be."
Following up
You've made a good impression - you've got credits in the bank but it's by no means a done deal at this fledgling stage in the sales process. Which makes the follow up key to securing the client and getting to pitch stage. Prior to the call or meeting that's been agreed, you have the option to send through a professional looking agenda for the meeting with all the appropriately branded material, as well as the right case study to support your case.
Templafy offers a cloud based library for your presentations which can be accessed remotely but controlled centrally by your brand and communication team to ensure relevance to the client. The agenda is a relatively small document but crucial to building the image of professionalism in the client's mind. It also sets the scene and makes sure the right people get involved.
The sales pitch
At this stage you've established the professional profile of the company through a consistent but personalized approach, together with a thorough follow up.
The high level sales pitch is a chance to impress upon them the value of your organization's offering with relevant examples of previous work, compelling case studies, and a detailed summary of your product or service.
Any disparities, even small ones, can have a very negative impact at this level as they can start to show cracks in the system. After all, from the client's perspective, if you can't demonstrate consistent branding and communication internally, what does that say about how you would treat their brand?
Typically these inconsistencies can be as small as logos appearing in different positions or different sizes but more worryingly mismatching fonts or spelling errors on basic information. On the more damaging end of the spectrum this can be larger brand missteps, irrelevant or out of date case studies and details that have not been signed off by senior management.
It's just not worth leaving any of these trivial details unchecked. As Templafy's Head of Sales, Kristian Simonsen says "You need to meet the customer with something that is well thought through and on-brand. Go the extra mile and your customer will love it!"
Building documents to seal the deal
Of course this is a key milestone and the culmination of your efforts so far. Your customer is impressed by your pitch and would like to understand your value propositions in Quote form. This is your chance to provide detail of each value and it's return on investment.
By having a solid Quote template in place, building this document is much easier and more likely to be accurate. With Templafy's Builder, you can create quote documents with all the relevant content and calculations. Combined with some smart dynamics, it's even possible to enter your customer's data into several fields and the document will generate the numbers for you.
Kristian Simonsen explains the benefit of Templafy:
"All of a sudden building a new contract, is much faster than running through an old with copy-paste, removing a rigid task from the sales professionals table, but even more important also ensuring legal compliant- and up-to-date content, in one of the most important documents in your business."
Once your customer has considered your quote, they are hopefully ready to review your product or services agreement. Again, using correctly configured document templates, you can quickly build a legally compliant contract. Formatting and logo issues are a thing of the past if you have a good contract template set up and easily accessible to your whole team through Templafy.
Your customers will be impressed by how quickly and smoothly you can deliver these important documents.
And finally..
With the deal in place, there are inevitably the day to day documents or sales flowcharts that become the lifeblood of the project or service you're providing. These are not only internal tools to map key milestones, but documents that are shared with the client and more widely within their organization.
Put simply, the role of branding and compliance does not end with finalizing the deal – it is crucial to impressing the various stakeholders through the business relationship and a path to securing repeat business.
Once you have a great suite of sales templates, Templafy lets you produce impressive personalized debrief documents, pitch presentations and sales email all where you already work in Microsoft Office, Office 365, SharePoint, OneDrive and Google Drive.
Templafy can help to make or break the sales process and your chances of securing new clients. But equally, it can dramatically improve efficiency throughout the organization while providing internal clarity and direction.
Download our free Template Management Guide to get an in-depth explanation of dynamic template management.
[maxbutton id="3" ]