According to Harvard Business Review, "somewhere between 70-90% of mergers and acquisitions result in failure"- a troubling statistic when you realize that 2018 was a record-breaking year for the world of mergers and acquisitions.
Despite mounting global trade tensions, more than $2.5 trillion in mergers were announced during the first half of the year - a 61 percent increase from the same period in 2017. With M&A activity particularly strong in the technology, energy and healthcare sectors, a series of mega-deals (takeovers worth over $5bn), saw the global mergers and acquisitions market reach figures that surpassed those reached before the financial crash a decade ago.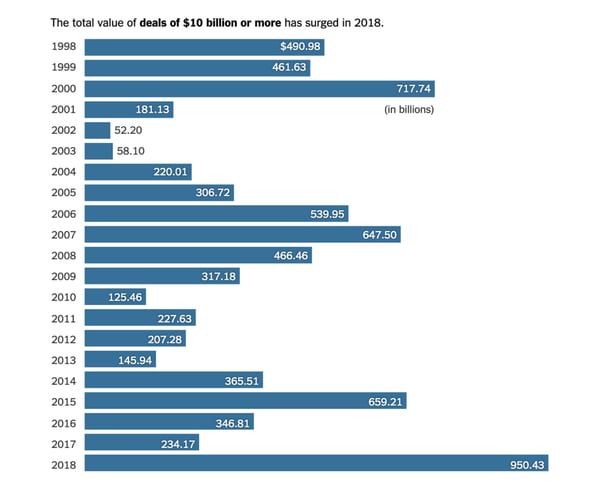 Image source: NY Times
With takeovers as huge as health insurer Cigna Group's $68.5 billion acquisition of Express Scripts or Energy Transfer Equity LP's $61.8 billion industry defining deal, there's a lot to play for in the M&A world. So with so much at stake, how are businesses getting their rebranding strategy for mergers and acquisitions so wrong?
Amazon and Whole Foods: The problem with love at first sight

Image source: Supermarket News
2018 saw a dramatic outcome from Amazon's acquisition of Whole Foods, which provides a highly insightful example of a merger and acquisition that didn't go according to plan.
When Amazon announced their $13.7 billion takeover of Whole Foods in June 2017, Whole Foods CEO John Mackey couldn't hide his enthusiasm. Describing the union as "love at first sight", Mackey detailed how Amazon's intervention had the potential to reverse the company's recent declining sales, enabling the organic grocer to lower their prices while scaling up to secure more market share.
Amazon too, had much to gain from the partnership. The e-commerce giant could finally move into the physical world, selling produce in hundreds of stores while collecting all important shopper data that bolstered its current offering. Despite industry commentators warning that the acquisition was "the corporate equivalent of mixing tap water with organic extra virgin olive oil", the future looked promising for the two enterprises.
Fast forward a year and the Amazon-Whole Foods brand merger/love story had turned extremely sour. Whole Foods employers were reportedly crying on the job and publicly accusing Amazon of turning them into 'robots'. Workers even began unionizing to protect jobs they felt were under threat. With the conflict between Whole Foods employees and Amazon management playing out across newspaper and web pages, what became strikingly obvious was how detrimental a lack of consideration towards the two very different work cultures had been.
Amazon's fast, easy and efficient services were hugely dependent on a strict internal culture of tight employee discipline and cost-cutting, productivity-driving strategies. In stark comparison, Whole Foods had become known for its personal touch, giving stores and employees a level of autonomy and decision-making. By approaching the acquisition with forcing a regimented model on a previously empowered workforce, it's no surprise that Jeff Bezos and co. found themselves in the category of problematic acquisition examples.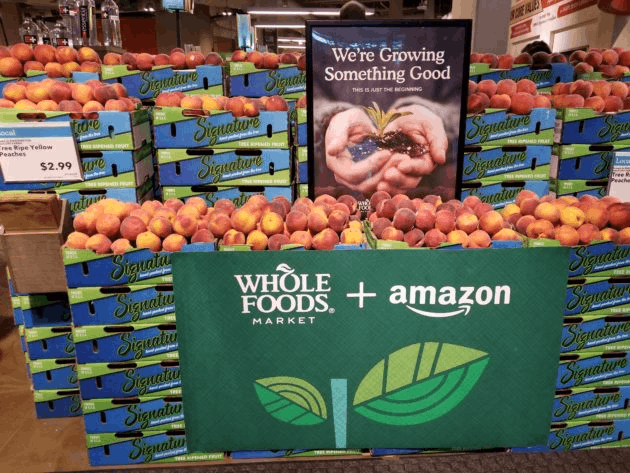 Image source: Geekwire
What the Amazon-Whole Foods saga highlights is the risk companies face when financial gains sideline a crucial rebranding strategy for mergers and acquisitions - aligning two distinct cultures. Short-term profits may follow a new logo or company restructure, however if brand values and identities don't align with long-term business objectives, at best the takeovers or joint ventures miss out on maximizing the power of their new allegiance, and at worst, deals are set up for inevitable failure.
With 2019 predicted to see further record-breaking acceleration of M&A deal flow - both in the number of transactions and the mega-deal trend, we take a look at famous mergers and acquisitions examples where businesses got brand management after acquisition right.
L'Oréal: the beauty of the acquisition
The beauty industry is no stranger to examples of rebranding after acquisition and mergers. Shaped by an 'acquire or be acquired' model, around 45% of today's cosmetic market is owned by just three industry players.
At the helm of this global domination is French powerhouse L'Oréal. The 109-year-old enterprise recently reported its best quarter in ten years ($7.34 billion) and claimed $28.6 billion in revenue last year, with business acquisitions at the heart of a 70% increase in sales over the past decade. The latest of these acquisition examples is L'Oréal's takeover of the major AR beauty player Modiface for an undisclosed figure. The partnership joins a long line of strategic acquisitions such as the $1.3 billion takeover of CeraVe, AcneFree and Ambi skin-care in January 2017, which doubled the size of L'Oréal's Active Cosmetics Division in the U.S.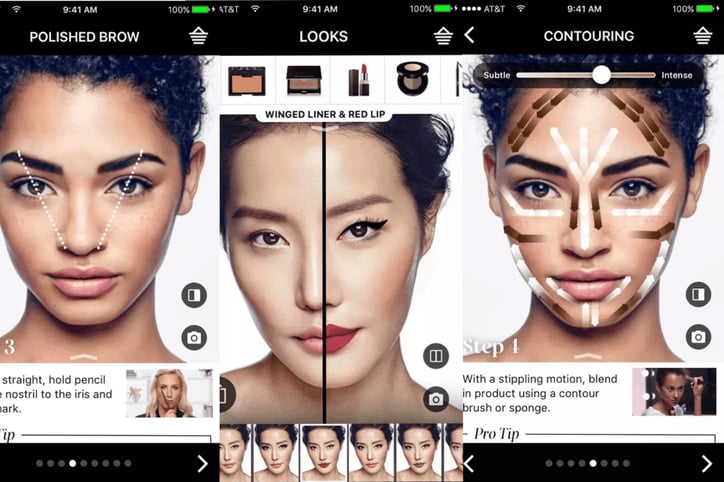 Image source:
The Verge
For those outside of industry intel, it's hardly surprising that L'Oréal holds the title of the world's largest beauty company. Decades of business branding investment with strategic advertising and A-list endorsed products have made L'Oréal a household name. What comes as more of a surprise is that L'Oréal's success lies with a portfolio of over 34 international brands, with all but one completely acquired.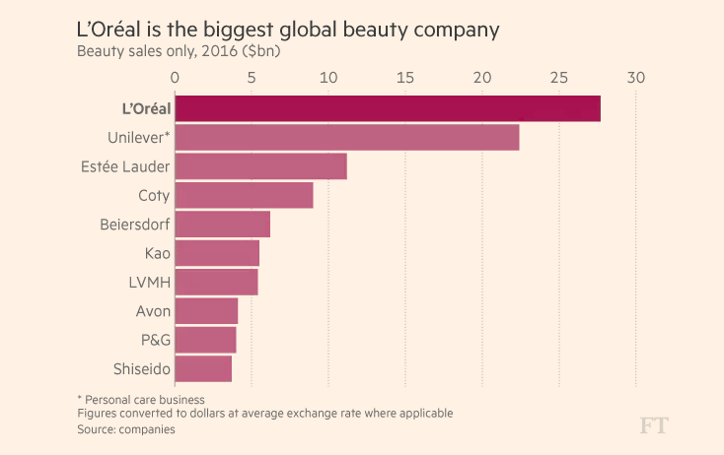 Image source:
Financial Times
From Yves Saint Laurent and Giorgio Armani to Maybelline and ABB (African Beauty Brands), each acquisition on L'Oréal's books has a distinct, individual and powerful corporate identity. The L'Oréal brand in all instances appears entirely separate. It is this empowerment of the individual brand rather than drastic rebranding after acquisition that CEO Jean-Paul Agon pinpoints as central to L'Oréal's success: "We offer [acquired brands] the total respect of the identity, culture, spirit and soul of the brand."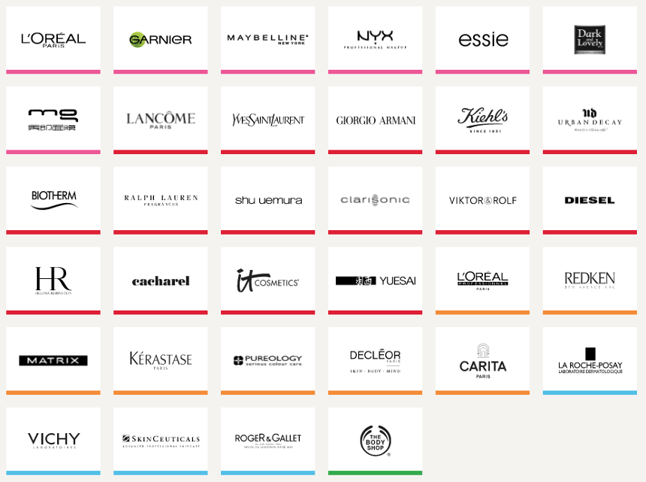 Image source: Loreal
In a recent interview with Fortune magazine, Agon built on this importance of brand, citing Kiehl's as a prime example of L'Oréal's rebranding strategy for mergers and acquisitions. Acquired in 2000, Kiehl's consisted primarily of a flagship NYC store and had an annual turnover of $20 million. 18 years later, Kiehl's is now a global entity valued at $1 billion. In regards to its billion dollar transformation, Agon is quick to emphasize that L'Oréal's corporate branding strategy was heavily focused on developing Kiehl's original brand values: "When you go to a Kiehl's store today anywhere in the world – in Korea, China, France, Argentina – it is exactly the replica of the spirit, of the soul, of the identity, of the Kiehl's store we bought years ago. We have been more than loyal and cultivated the spirit of the brand."
When implementing their rebranding strategy for mergers and acquisitions L'Oréal prioritizes rather than sidelines investment in brand identity design. As Agon surmises: "the way we grow is exactly this combination of buy and grow. It's not buy or grow… Once the brands have been acquired, they are brands that we build." This 'buy and grow' approach has allowed L'Oréal to dominate the beauty world, reaching new consumer groups, securing innovative technologies and accessing niche markets with a growing list of diverse acquisitions.
Read how Global healthcare product supplier, Coloplast, managed to streamline their brand relaunch with Templafy:
EE: starting with a level playing field
Just as brand management after an acquisition is often overridden by commercial strategy, the world of rebranding after a merger can prove even more complicated. There are few examples of truly successful company mergers, in which two brands, businesses, cultures and teams of people come together in a joint venture where both parties retain equal influence and power and one does not subsume the other.
Take the telecommunications industry; when the launch of Apple's iPhone collided with the rise of an online marketplace, the high street telecoms industry was destined for decline; forcing previously triumphant brands into a string of mergers and acquisitions.
AT&T's acquisition of BellSouth and Vodafone's acquisition of German company Mannesmann at the height of the .com bubble remain two of the biggest merger case study examples of all time – worth $86 billion and an eye-watering $180 billion respectively. Yet these famous corporate branding examples saw two household names; BellSouth and Mannesmann, completely disappear and Vodafone eventually plunge to massive losses.
Two brands renowned for managing the merger branding process by bucking this telecoms trend however were Orange and Deutsche Telekom's T-Mobile - two of the biggest UK household names in the 2000s. "The future's bright, the future's Orange" is among the most famous straplines in advertising history and saw the brand build huge equity over two decades. T-Mobile claimed equal fame with marketing activity such as the 'flashmob', which is now the go-to option for any brand trying to make a viral video.
Showing other brands how it's done, the rebranding strategy for acquisitions and mergers adopted by these two brands was a truly collaborative style, as seen in Orange and T-Mobile's £4m co-branded ad campaign. Easing consumers and staff into the partnership, the global entities announced their union in a rare joint message which retained and communicated each of the two brand's recognizable corporate visual identity. This remarkably transparent and candid approach retained and even built on the brand equity each company had built up over the years.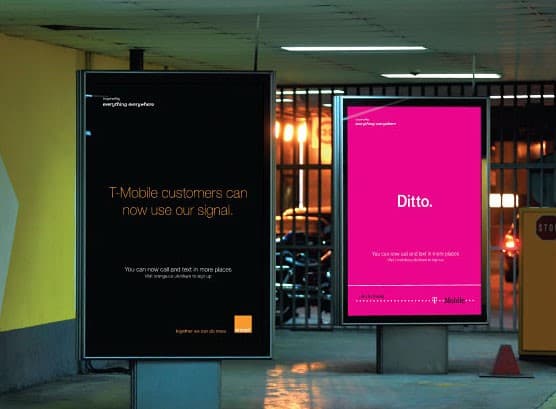 Image source:
Campaign Live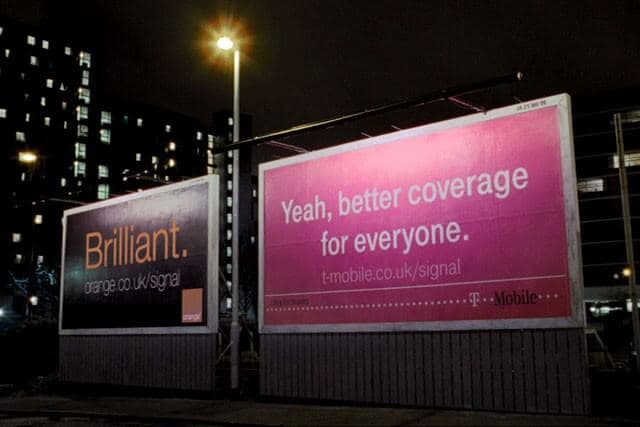 Image source:
Campaign Live
Fast forward a year, and the clever co-branding strategy proved a key stage in what would be a longer term merger strategy, culminating in the two brands forming EE; a new brand launched around 4G technology with an enormous amount of marketing effort and fronted by Hollywood superstar, Kevin Bacon. EE succeeded in creating a brand that was new to market thanks to a well thought through brand architecture, built on five long years of carefully planned rebranding strategy to ensure long term stability. This diligence underpins ongoing success through to this year's launch of higher-end products such as 'EE class'.
The lessons of the telecommunications industry in the 2000s are crucial for any sector in a state of contraction and decline; the commercial opportunities of consolidation through mergers and acquisitions are great, but the fate of businesses with poorly planned rebranding strategy for mergers and acquisitions has the potential to see long-established brand equity wiped out overnight.
Relevant article: 4 worst things about being a Brand Manager
Templafy
What these acquisition and brand merger examples make clear is that to be successful and survive in the world of mergers and acquisitions, all parties need to be dedicated to rebranding a company by developing strong brand identities.
The same goes for companies where mergers and acquisitions may not lead to a complete visual brand makeover but for example, where a brand refresh is undertaken or a company needs to update business documentation such as legal documents, email signatures and invoices. In any instance of brand worlds merging, building and maintaining this new brand is a continuous and long-term process that goes beyond a logo refresh or new brand slogan.
At Templafy we know this process starts with internal implementation. Just one look at L'Oréal's internal brand culture, and you understand the importance of having a team that works together towards a united goal and are empowered through the support of their employer.
Effective internal employee buy-in starts by giving your employees the resources they need to correctly implement the new branding elements involved in rebranding a company. Giving busy individuals the tools they need to easily communicate your new corporate visual identity facilitates consistency and ensures brand compliance; with integrated software such as Templafy.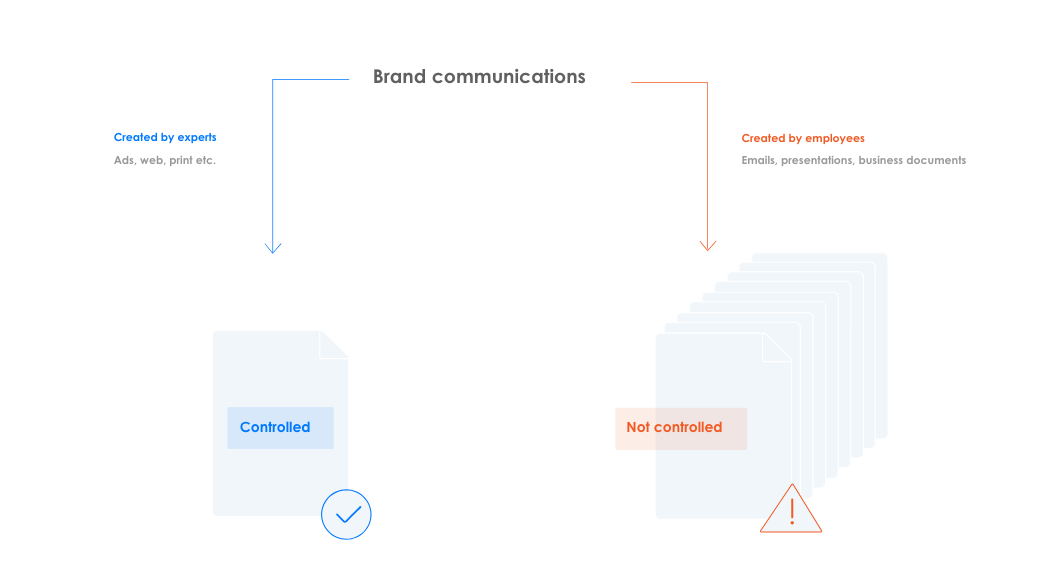 Take our work with Global Shipping Group, a leading transport and logistics company. Consisting of multiple brands with unique brand identities and operating in over 130 countries, the group were aware of the challenges they faced with their upcoming brand refresh.
Successful implementation of its new visual identity was dependent on their workforce of over 85,000 correctly using elements such as the new logo, typeface, color palette and document templates each day. However, it became apparent that employees were either not aware, or were having trouble locating, corporate templates which resulted in the use of makeshift local versions or the circulation of outdated branded documents.
Reflecting on the situation, a Senior Corporate Brand Manager at Global Shipping Group commented: "We needed to empower branding units in different business entities to update corporate content for their respective locations, while still using global brand standards." Centralizing branded assets, making them easily accessible for employees and increasing brand compliance became top priorities for the Global Shipping Group's rebrand.
Templafy's automation tools were key end-to-end solutions for ensuring brand identities were rolled out as intended across all channels. Brand Managers could easily update a logo on an email signature or apply new brand colors to their document templates via their Templafy dashboard. No matter how big or small, these changes could then be rolled-out instantly across countries and in multiple languages.
As a cloud-hosted solution, employees could access brand assets 24/7, and by using Templafy's central hub they had all the best practice templates, digital assets and brand elements in one place. With our software's deep integration with Microsoft Office and Outlook, employees were able to open and edit brand-approved documents in their everyday programs - increasing ease of use and user adoption.
Speaking of the process, Global Shipping Group stated: "At Group level, we made the decision to purchase Templafy licenses for all business units. The decision was based on the proven performance of the solution, and the benefits of all using the same tool. The list of benefits is long, but the most important ones to mention are brand consistency, efficiency, legal compliance and a smooth process for onboarding and maintaining the system."
If you'd like to learn more about how Templafy can support your brand strategy for mergers and acquisitions - whether full rebrand or enterprise-wide document updates -let's talk.