A man who knew a thing or two about brand thinking once proclaimed "Design is not just what it looks like and feels like. Design is how it works."
When Jobs said this (now infamous) quote in 2003, branding and design worked in a very fixed way. Built on decades of traditional practices, successful brand development processes went something like this: build your brand, keep it consistent, do not waver from the style guide under any circumstance and repeat, repeat, repeat.
This form of brand architecture process meant that it didn't matter whether a company was operating in New York or Norway, as consumers would always get the same message, visuals and consumer experience. For a long time, this worked. Think of Coca-Cola's iconic ads, Tiffany's timeless style, McDonald's language transcendent golden arches and catchy jingles. When it came to building a brand in the past dedication to consistency and stability has paid off.
Today, while Jobs' words have stood the test of time, the age-old brand approach of stability matched with consistency, has not. For modern enterprises, brand design has to be flexible, with the capacity to work very differently not just to previous decades - but to previous years. With the speed and sophistication of today's tech developments, consumers are interacting with brands on an ever increasing number of channels. Following the interactive nature of digital channels, consumers hold more power than ever and brands have largely lost their autonomy over brand identity.
While brand value is still inextricably linked to consistency, enterprises now have to factor in relevance, flexibility and open-ended design - so in 2019, brands don't just have to look and feel great, they also need to work to an agile branding model.

Read next: Everyday value: Brands using employees as brand ambassadors
What is agile branding?
Agile branding is the creation of a brand that can adapt to different platforms, cultural movements and consumptions moments. As the antithesis of the rigid stability of old brand structures, it's flexible enough to remain relevant in fast-changing environments, while always delivering the consistency of a brand's core values.
The Branding Journal have a particularly handy breakdown of agile branding:
"Agile identities are adjustable; they adapt to different contexts, like a person adapts to social situations, such as a business dinner or a Friday beer with friends. However, a brand message remains unchanged. In fact, a solid strategic base and a distinct message make it easier for an identity to adapt."
Why does agile branding matter? Because keeping up with change doesn't just equate success, it also determines whether or not your brand has a future. According to Forbes, due to globalization, technology and lower barriers to market entry, over the past decade around half the companies in the S&P 500 Index have been replaced and by 2020 listed companies are expected to last just 15 years. The fight is to remain relevant and memorable to the consumer and if agile branding enables this change, it's needed now more than ever.
How do companies adopt an agile brand approach?
Unlike in the past when success was tied into maintaining a good-looking logo design or choosing a great brand name, agile branding is a more disruptive, ongoing process.
According to Guy Hatton at Brand Quarterly, it's to go for an 'iceberg model.' Instead of trying to lock down your brand in one campaign, product or service, "focus on a single core business proposition – the one thing you want to be remembered for." This core business proposal, your intrinsic brand value, is the tip of the iceberg - the constant that will never change despite what goes on beneath the changing tides below.
Just look at Google. Although they started with a basic 'search' function, their core value of access to information allowed them to grow the brand to a global entity worth $110.8 billion, owning hundreds of different products from Alexa to Google Play. Similarly Spotify's 'music for everyone' proposition has allowed them to go from a streaming service to a worldwide entertainment brand. Facebook's original model of connectivity has seen the company develop from a dorm room site to one of the most influential advertising and communications brands in modern history.
What these agile brands all have in common is that they're positioned to move with the times to ensure their design works for the changing needs and behaviors of the consumers. Even if a brand is steeped in history and tradition, it can move forward through agile branding - as demonstrated by Pernod Ricard's Absolut vodka.
Agile branding case study: The Absolut embracing of cultural change
Absolut - the Swedish vodka brand, is very much a brand that has lived in both traditional and agile brand models.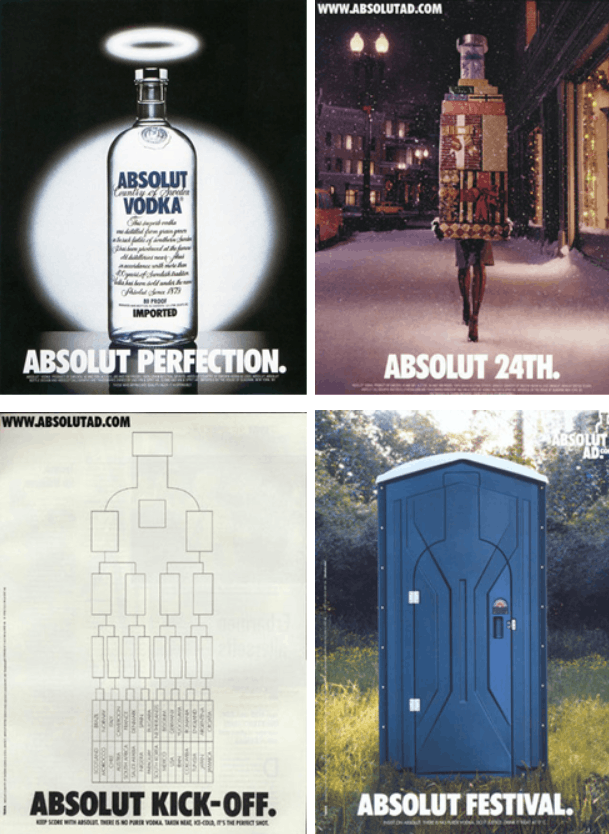 Image source: Business Insider
Boasting the ultimate brand dream, Absolut can proudly claim one of the longest running print ad marketing campaigns in history. It all started with its original Absolut Perfection ad in 1981. Absolut took the initial brand strategy decision of avoiding direct comparisons with rival brands to embark on a positioning strategy that "relied on the promise of an entirely new experience."
With a bottle that looked totally different from its competitors, the 1981 ad formula of unique bottle outline + brand logo + clever word and imagery play, has been used in over 1,500 variations to create smart and culturally relevant ads. Building on the notion of new experiences, Absolut tapped into the art world, starting with Andy Warhol in 1986 Absolut went on to work with over 600 of the world's top artists including Keith Haring, Arman Armand, Romero Britto, Annie Leibovitz, Helmut Newton and Damien Hirst, to reinvent their tried and tested bottle ads.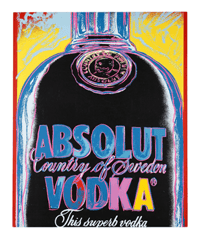 Image source: Absolut
While there's no doubt that Absolut's bottle ads are both iconic and provide instant brand recognition, in today's climate of multiplying digital channels and increased category competition, there's only so much sway a run of print ads could have. The key to Absolut's current brand success hasn't been a decade old ad formula, but the way in which the drinks enterprise has moved on to adopt a more agile brand marketing model.
Stemming from its very first brand positioning of 'the promise of an entirely new experience', Absolut had created central beliefs around creating a more open, equal and inclusive world. It had also put down roots in the world of arts and culture and formed a brand identity that kept on top of cultural trends.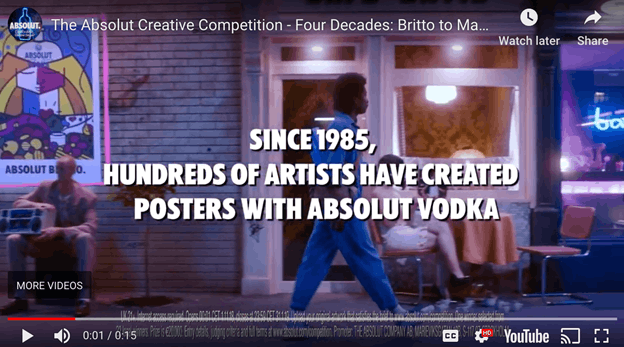 Video link: YouTube
Absolut took its central beliefs and heritage into the modern era with a range of diverse campaigns. In 2016, the agile brand launched its Absolut Art - an online art commerce site that 'democratized' art buying in the US. Two years later, the Absolut Creative Competition tapped into the rise of user generated content by putting creativity in the hands of their customers. With the appeal of joining a long line of art legends (as well as a huge cash prize) creatives in 20 countries were tasked with designing their own bottle that embodied the company's creatively executed brand value under the slogan 'Create a Better Tomorrow, Tonight.'
Firmly established in the world of art, Absolut's agile thinking has also allowed them to take their notion of inclusive culture to associate themselves with hugely significant cultural movements such as the rising support of the LGBT community. From the powerful "Equal Love" film to the most recent launch of Absolut Drop in February 2019, Absolut has found a way to bring a whole new level of meaning, dimension and creative opportunities to the brand.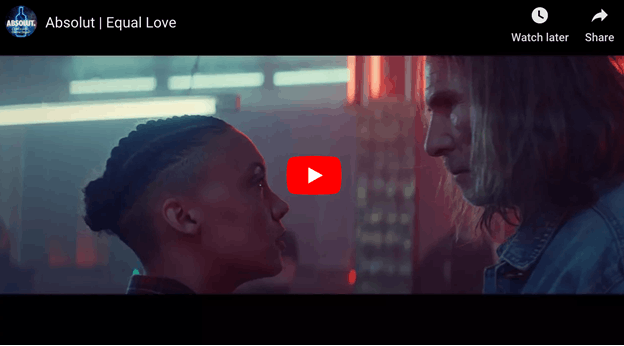 Video link: YouTube
Completely diverse in their nature, all these campaigns worked together to strengthen Absolut's brand values. Building out from Absolut's core value, they all encouraged creativity, had deep roots in culture and embraced new experiences. Catering for changing times and attitudes, Absolut's agile branding model was flexible enough to play into the latest cultural movements and media consumption trends.
A consequence of adopting agile branding strategy, the vodka brand has maintained utmost relevance while always giving its audience a consistent brand experience.
Other examples of examples of agile brands (or lean brands as they're also known) include the likes of Lacoste with its ingenious endangered species logo swap campaign (a masterclass in itself for the agile logo), Heineken's viral 'Worlds Apart' video series and Nike's Kirkpatrick-led Just Do It ad series, are all stand-out examples of the results you can achieve when your brand thinking is as dedicated to flexibility as it consistency.
Read next: Why a brand style guide is important: lessons from 4 leading brands
How can Templafy help your business implement its agile branding strategy and agile brand management?
Agile branding is dependent on maintaining consistency while being able to adapt to change enterprise-wise, at all times. When branding starts internally, with your employees acting as the daily communicators of your brand world - from the thousands of emails they send each year to the pitches they give to shareholders, businesses need to make sure their teams are keeping up with their evolving brand identity.
By arming employees with tools such as Templafy - which are designed to answer branding vs identity challenges and implement brand consistency, you're ensuring every element of your communications from email signature to contract, sales pitch to invoice match up to the big billboard, clever social media campaign and latest experiential marketing event is consistent.
Here's a few main ways Templafy can benefit companies adopting an agile brand model:
Time is saved producing on-brand communications: Templafy's dynamic, best practice templates give employees a faster route to compliance when creating company documents, presentations, and emails. Automated document creation is teamed with Templafy's cloud-hosted Library, packed full of the most up-to-date, pre-approved company assets.
Changes can be made fast: No matter how big or small, Brand Managers can make changes to documents and brand assets centrally, and then roll these out globally in real-time. There's no need for IT resources and role-based access control means each employee has assigned privileges and a personalized experience.
Brand consistency: Handy plugins such as Templafy's Validator flags any off-brand elements meaning your team will be alerted if they're creating any content that is a risk to brand compliance.
Solutions are available 24/7: Templafy's cloud software allows employees to work from anywhere without the need for VPNs or remote desktop sessions. Our agile brand solutions even work offline, so you can rest assured that company documents are on-brand and legally compliant.