When it comes to the world of rebranding, brand visuals usually steal the show. Being the most obvious elements of a rebrand, it's easy to get focus your attention on the new logo or headline grabbing ad campaign. Look beyond a company's shiny look and feel however, and you'll find that rebranding like is very much a numbers-driven game.
A few key rebrand figures for you to digest:
While the cost of rebranding is company, agency and industry dependent, what all rebrands have in common is that there is always something at stake. Get your rebrand right and it's an investment that can transform your brand personality, establish you within new markets and future-proof your business for the years to come. When it goes wrong or is poorly executed, it can be an expensive exercise that yields poor ROI on rebranding or worse - becomes a reputation damaging PR nightmare.
If you're considering your next brand refresh and are facing tough questions on the cost of rebranding, potential ROI or average return on rebranding investment, here are two businesses who can teach you a lesson or two on getting it right.
Losing the dead weight: the cost of rebranding for Weight Watchers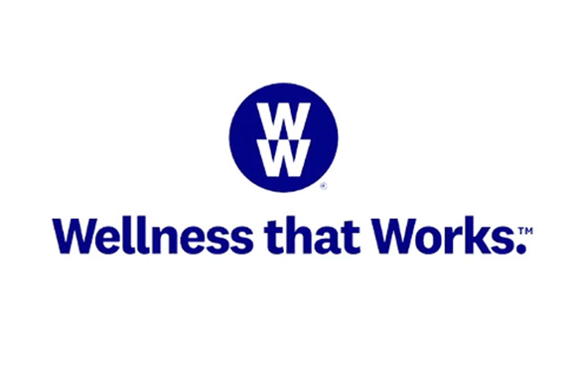 Image source: Weight Watchers
Weight Watchers is a company that built its global success and brand recognition on its association with diet culture, but in 2018, the 55-year-old brand made the decision to ditch its name entirely and rebrand itself as 'WW'.
With more consumers taking a holistic approach to looking after their health and a rising backlash against 'fat shaming', Weight Watchers felt they would see a pretty solid return on rebranding investment by shifting their brand messaging from diet culture to overall better health and wellbeing. This was thought to cater to a growing movement of dieters championing healthier lifestyle solutions such as better mental health, improved diet and nutrition, better sleep and fitness.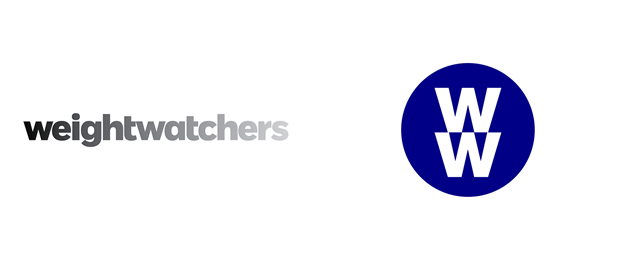 Image source: Under Consideration
Working with design agency Pentagram, the radical rebrand included a bold, vibrant color palette, the debut of the tagline 'Wellness that Works' and a new 'friendly, accessible' logotype with Weight Watchers name displayed in lowercase. Considering the health approach to weight loss, graphics used a graduation to visually embody transformation.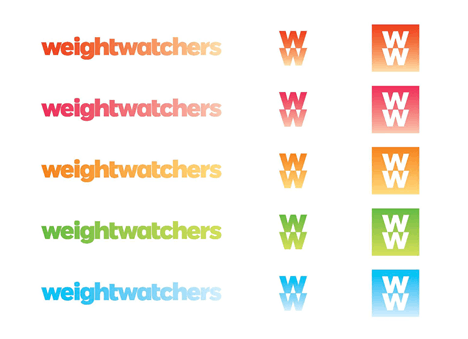 Image source: Pentagram
This departure from such a well-known brand stance backed up by the introduction of a new brand world, was a highly risky move. Weight Watchers had a loyal following who engaged regularly with the brand - each week around 1.3 million members attend over 45,000 Weight Watchers meetings, a personal and emotional experience. Add to this the cost of corporate rebranding, particularly a global brand such as Weight Watchers, is a large investment - a logo refresh from prestigious design agency Pentagram alone is rumored to cost $1.5 million.
By doing their homework on emerging trends and consumer insights however, the brand facelift not only revitalized the look and feel of Weight Watchers, but also its profits. The roi on branding is impressive: company revenue is said to have increased by 14% in November 2017 to $324 million, and Weight Watchers saw its eighth consecutive quarter of member growth. Recent figures state that it now has 11% year-over-year increase on member meetings and 2 million digital subscribers.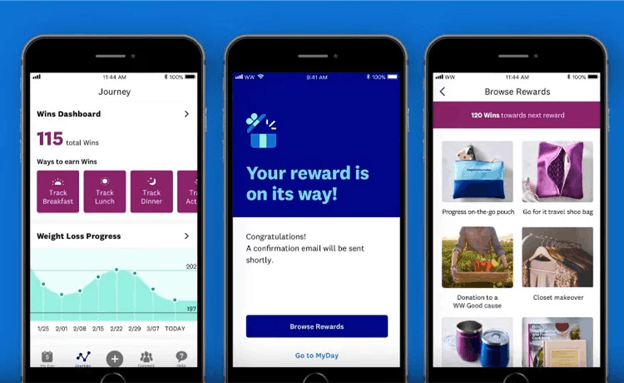 Image source: Marketing Week
The rebrand also gave Weight Watchers the opportunity to expand their product range. The Weight Watchers model previously centered around attending weekly weigh-in meetings, but the brand upped their consumer convenience by launching a range of healthy cookbooks under the name 'WW Healthy Kitchen'. The company launched a 'WellnessWins' program to reward members for 'healthy habits' and working with Headspace to launch a holistic wellbeing app. The effort also included expanding the Weight Watchers food range to include products with no artificial sweeteners, flavors, colors or preservatives.
The brand also managed to tap into new audiences. For years, Weight Watchers' core demographic has been 90% female, with an average age of 38. In the last year, however, Fast Company reports they're growing amongst a younger demographic, predominantly women in their 20s and 30s.
The rebranding takeaway: Do your research. Key market trends should be both driving and shaping your brand identity. A rebrand can breathe new life into a business, but a return on rebranding investment is only likely if you're aligning your company's values with changing consumer preferences. In the case of Weight Watchers, the cost of rebranding completely paid off through smart trend forecasting. Rebranding which falls in line with the $4.2 trillion wellness economy (which grew 12.8% from 2015 to 2017), also acted to future-proof the business for years to come.
Read next: Why a brand style guide is important: lessons from 4 leading brands
Hitting the right note with millennials: the cost of rebranding for Burberry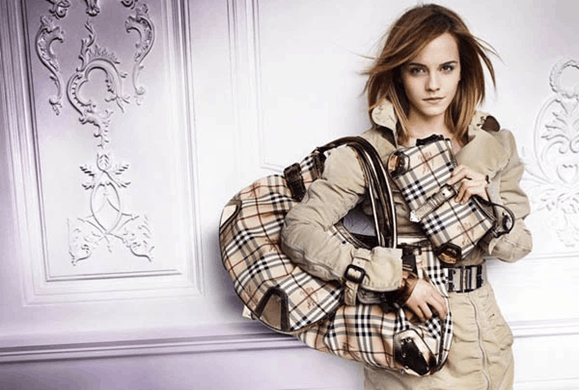 Image source: Burberry
Cast your mind back to the early Noughties, and fashion brand Burberry was a brand in decline. Its eponymous Nova check fabric had become inextricably linked with British, working-class 'chav culture' and sales were plummeting. Fast forward to today, via a savvy digital brand revitalization led by creative director Christopher Bailey and CEO Angela Ahrendts, and the fashion house reinvented itself as a major player in the luxury market.
So how did they do it? In this case, rebranding efforts didn't involve a new logo design or color palette - it mainly focused on brand imagery. Aimed at fashion-conscious millennials, Burberry distanced itself from 'chav culture' by enlisting high-profile celebrities to help align the brand with a more high-end image. Casting talent from the realms of music, film and fashion - like Emma Watson, George Craig and Cara Delevingne, Burberry products started to feel young, cool and relevant again.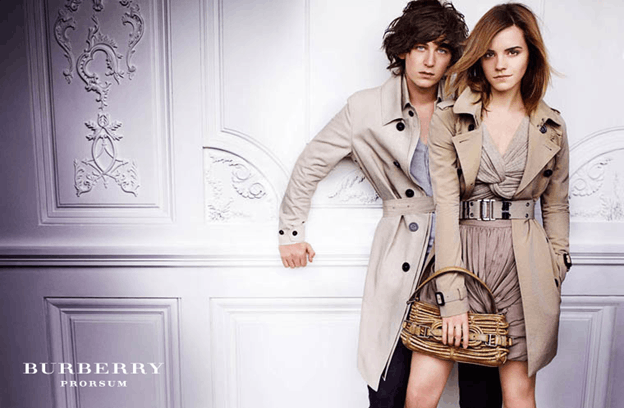 Image source: Fan Pop
Burberry then took this new imagery direction and ensured it was consistently applied across online and offline channels. For instance, to coincide with its celebrity-focused billboards and glossy magazine ads, the company launched ambitious (and expensive) seasonal campaigns, like 2009's 'Art of the Trench'. Mirroring the infamous trench coat wearing celebrities and models, the campaign hosted a microsite where consumers could share photos of themselves wearing their Burberry trench coats and - in a precursor to Instagram - allowed them to appear as models on the site, while letting others admire their personal style.
By 2011, Burberry revealed that it was spending 60% of its marketing budget on digital, while at the time digital made up just 15 to 20% of media spending globally. The forward-thinking brand even designed its Regent Street store to reflect the burberry.com website, providing a flawless experience from digital to retail.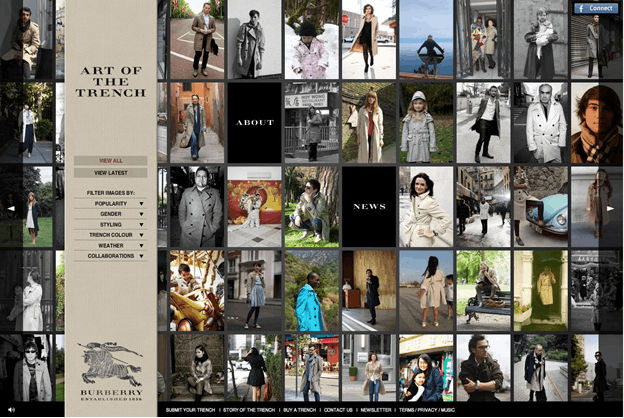 Image source: Socialwall
The cost of a rebranding project of this ilk is not cheap, and likely fell well within the millions - the luxury brand's 2018 Christmas campaign, for instance, is rumored to have cost more than £10 million to produce.
The return on rebranding investment was proof that it was a worthwhile exercise though. The company's revenue catapulted from £743 million in 2006 to £2523 in 2015, while Burberry managed to expand its international reach to new markets like China. Between 2002 and the present day, Burberry share prices have also risen by 729%.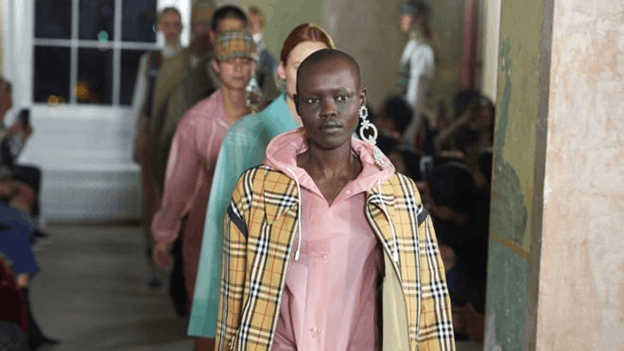 Image source: BBC
The rebranding takeaway: Be consistent. Repositioning itself in the luxury world was no small feat for Burberry. There was a lot to prove and a huge investment at risk if any aspects of its old brand world crept into new marketing efforts. By communicating solely with the most up-to-date and on-brand assets, and closely considering both online and offline execution, Burberry firmly established the changing face of a global heavyweight.
Like Weight Watchers, Burberry also made sure they had a solid understanding of how target audience behavior was changing. In the case of this heritage fashion house, digitally rebranding was a costly but worthwhile investment. It meant they were ahead of the game when the digital revolution fully took over. Let's hope Burberry's recent logo rebrand, which jumped on the trend for minimalist monikers, hits the same high note with luxury consumers.
Read next: The elements of a successful company logo design in 2018
How can Templafy help with you get ROI on your rebrand?
You can spend tens of millions on celebrity-led campaigns, or hire a leading design agency to create the perfect logo, but you need to ensure effective execution and roll out to achieve the roi on branding. If Weight Watchers sent out a newsletter with old weight loss slogans, their work on new tagline 'Wellness that Works' would take a hit. Similarly, if Burberry's social media team were distributing old brand images on their channels, there would be a disconnect from pricey billboards and magazine ads. Strong brands are built on consistent brand experience.
This applies to any corporate rebrand. When you've invested so much into your new look, the last thing you want is for an old logo, strapline or key message to pop up in communications such as a presentation when you're delivering an important pitch. Not only is it embarrassing, but it can also be really confusing to clients - especially if your old brand identity is miles apart from your new one.
So how can you be confident that all of your precious rebrand assets - like logo, taglines, color and design - are uniformly rolled out internally? The answer is simple. Assuring all your company's brand assets such as images, logos and typeface doesn't need to involve hundreds of manual reminder emails or internal meetings. Templafy can automate processes and do the hard work for you.
Templafy maintains visual compliance across your internal content by employees have everything they need to create brand compliant documents. From easy, 24/7 access to pre-approved brand assets via our brand library, to dynamic templates, Brand Managers can rest assured that all outgoing communications are on-brand. Even if an employee happens to open an old document which contains out of date company branding, they'll get an alert through the Templafy task pane that they're outside of the guidelines.


As we learned from these case studies, when it comes to rebranding, it's the details that matter - and when you're spending big on a new identity, you really can't afford for your old one to come back and haunt you.