Now that social media and instant messaging platforms are an entrenched part of everyday life, it's easy to think the world of digital communications belongs to Mark Zuckerberg and co. However, recent studies in both B2B and B2C markets have proven the incredible growth and value of emails and email marketing campaigns; highlighting the need for businesses to keep a close eye on these channel insights.
From "how many emails are sent every day?" to "what's the best day to send an email?" we've collated the latest email reports and statistics to cover the key considerations that your company be should taking note of. Plus we outline some handy ways that Templafy can help you use these trends to stand out in your industry.
Read next: how Templafy solves Email Signature Management
How many emails are sent every day?
Globally, a staggering 269 billion emails are sent each day and there are currently just over 3.7 billion email users worldwide.
The findings revealed in Radicati Group's February 2017 study mark a continual growth in the number of emails sent per day; from 2015's figure of 205 billion emails. For scale, if 205 billion emails is the daily email count, this means almost 2.4 million emails are sent every second, and a mind blowing 74 trillion emails per year.
With an annual growth rate of 4.4% forecast over the next four years, it's estimated that by the end of 2021 over 316 billion emails will be sent each day and there will be 4.1 billion email users - that's over half the entire world's population.
How many emails does the average person receive per day?
Between 2014 and 2018 the average office worker received about 90 emails a day and sent around 40 business emails daily.
To take these numbers in context, if your company has 1000 employees the team will send out 40,000 business emails in just one day. Based on a calculation of 250 business days per year, that culminates in an astonishing 10,000,000 emails annually.
Today's business culture truly is in emails, with 86% of professionals naming email as their preferred means of business communication and email ranked as the third most influential source of information for B2B audiences - topped only by colleague recommendations and industry-specific influencers.
What is the best day of the week to send emails?
Not surprisingly, optimum email send out dates for B2B and B2C industries differ. Avoiding the working weekend, Tuesday is the best day of the week to send a business email compared to Saturday for B2C email communications.
Days of the week aside, performance of B2B emails is considerably higher in terms of email open rates and CTRs, as it is 47% higher than B2C email marketing campaigns. This is an incredibly powerful statistic when you recall how many emails are sent each day and take into consideration that 59% of B2B marketers say email marketing campaigns are their most effective channel for revenue generation.
Read next: Rules of email signature marketing
How has millennial culture impacted email communications?
Appboy report that from 2015 to 2016 the use of emojis in emails increased by 775% and showed a steady 20% growth month on month throughout 2016. Visual trends in emails can also be seen with the percentage of emails containing GIFs increasing from 5.4% in 2015 to 10.3% in 2016.
Some reports claim that up to 54% of all emails are opened on a smartphone, and iPhones top the device chart with a 33% share of this figure. When almost half the online population are reading emails online, the need for mobile responsive emails is more of a necessity than ever before.
Should you incorporate email marketing campaigns into your company email signature designs?
Have you incorporated email marketing campaigns into your company email signature designs? These are the sign off at the end of each email sent throughout your organization, and a prime piece of marketing real estate that often isn't harnessed. With email signature marketing campaigns, every email sent by your staff is a marketing opportunity.
The key to successful email signature campaigns is providing offers and promotions that are relevant and targeted. Tools like Templafy allow you to centrally manage email signature marketing campaigns, and administrators can filter them by business unit, region or brand so that relevant campaigns are automatically applied to every company email. For example, a global organization can send out a commercial campaign from all U.S. employees' emails about a "New product launch!" which has only been released in the U.S.
We put it to the test.
There are numbers to back up the power of relevant email marketing campaigns, but we didn't want to just rely on these, so we tested the tool ourselves and this is what we found:
We found that on average your company website will have a new visitor every other day from your email campaign.
The "bounce rate", or rate at which a website visitor looks at only one page and then leaves, is 47% lower when they have come to the website through an email campaign than when they come from any other means.
This means that on average, once someone has visited your website through an email campaign, they are more likely to visit other pages within your company website.
Visitors will also stay on each page around 300% longer than when they reach the website from another way.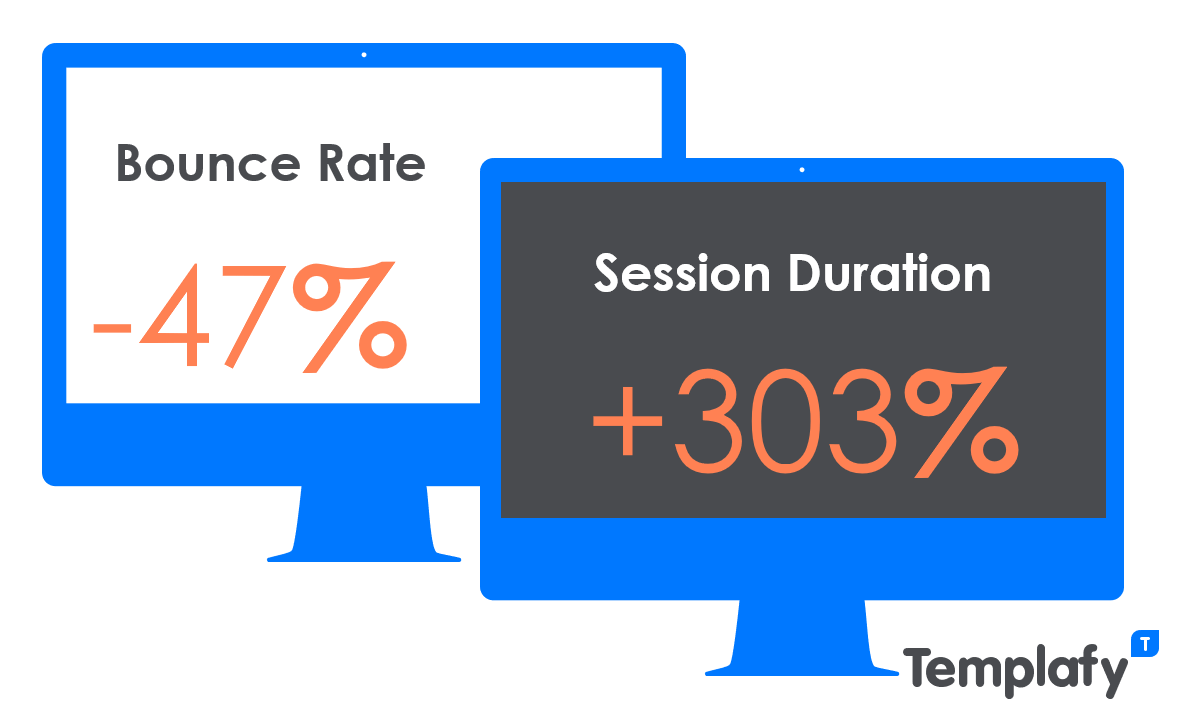 How can Templafy help you capitalize on emerging email trends and statistics?
Returning to our initial question "how many emails are sent each day?" Instead of being daunted by the statistics, your company should be prepared for the scale at which email communication is growing, and the huge potential of possibilities that this offers.
While our platform doesn't have in-built VR selfie filters or cat GIF generators, we do have a number of easy to implement, effective tools to make sure your business emails stand out when they arrive in increasingly busy inboxes (read more about Email Signature Marketing here).
1. Business Email Templates
Email templates are simple and highly effective applications that ensure the recipient is presented with a well-written, well-designed email that is personalized, visually appealing, mobile responsive and easy to navigate.
With Templafy, pre-populated HTML and plain text email templates are centrally updated via an admin dashboard and accessible directly within Outlook.
Watch the video explaining the core value of our Email Signature manager:
As employees send out hundreds of emails in their working week, not only do business email templates save your team time, increase capacity for outbound emails and automated email blasts, but they also guarantee communications have a consistent look, feel and message. This strengthens your brand identity and approach by ensuring consistency at all email touchpoints.
2. Email signature management
With the strength of your brand upheld by consistency of communications, email signatures can be created in a strategic and protective manner to ensure emails have maximum impact for your company.
The small email sign-off often gets overlooked, added as an afterthought or left to employees to manage. However, as the numerical answer to the question "how many emails are sent each day?" increases every year, companies who do not engage in this business email asset inevitably miss out.
A lack of email signature strategy fails to seize a huge opportunity to promote everything from brand identity to social channels. It also has worse consequences, as a poor, unregulated or confusing email signature design is a serious risk to a company's entire brand integrity.
Read next: Rules of email signature marketing
We investigate the dangers of poor email signature management in more depth in our blog post "Email signature management: why does it matter?". The main takeaway is you should treat an email signature as you would your logo. Imagine giving all employees unregulated and unlimited access to tweak your logo whenever they please. It's easy to see how rapidly your once powerful symbol of brand identity would descend into complete branding chaos.
Templafy's centrally managed Email Signature Manager keeps branding teams in control of email design. With every email sent or received, our software solution dynamically merges company information with up-to-date personal data. It automatically attaches the right email signature created on behalf of the individual user with a look and feel that corresponds with your brand style guide.
3. O

n-brand email asset library
Alongside business email templates and email signature software, Templafy's built-in library offers instant access to brand approved-assets which elevate email content.
Everything from images to best practice fonts are stored here and integrated into Outlook. Not only does this save you from hunting down the correct assets, it also ensures that there are no visual clashes or unwanted visual effects. All brand colors can be set and visual elements scaled to fit perfectly in mobile responsive templates.
These are just a few of Templafy's capabilities for streamlining your business communications and helping build and secure your brand identity.
To find out more about harnessing the power of email in your organization, schedule a meeting with our email signature management specialist who can tell you more about our enterprise scale email signature solution.