In January, Coca Cola followed in the footsteps of AirBnB, Nokia, General Electric, Intel and BMW, to become the latest global brand to launch its own custom corporate typeface. Revealing TCCC Unity via his personal Instagram profile, Coca-Cola's vice president of global design, James Sommerville excitedly described how the new corporate identity typeface "encapsulates from Coca-Cola's past and its American modernist heritage."
With hundreds of thousands of existing typeface/font options available, is this latest typographic trend one your business should invest in? With reported benefits including boosting employee productivity, strengthening brand image and improving communication options, it's becoming increasingly recognized that focusing design resources on a unique corporate typeface is a clever and strategic brand move.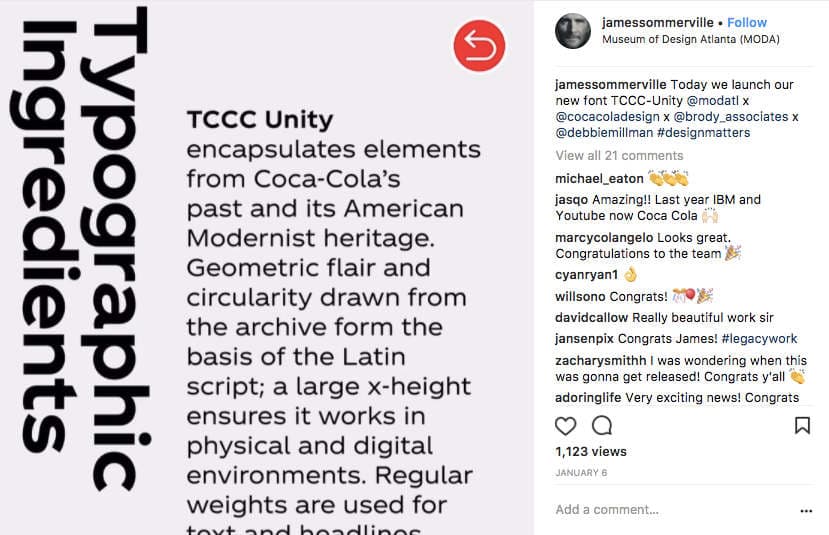 Source
We took a look at how two of the world's most recognized enterprises - YouTube and IBM, have incorporated bespoke corporate typeface/fonts into their marketing strategies and the impact it's made to their brand world.
Corporate Typeface vs Font
A quick question before we explore recent brand- typeface examples - do you know your typeface from your font? In today's digital age, the two are often used interchangeably, so it's no surprise if you can't instantly reel off individual font or typeface definitions. While most experts agree there's no harm in blurring definitions, if you're in talks with a design agency, it's important to understand the difference. On this front, Fast Company offers this helpful breakdown:
A font is what you use, a typeface is what you see... the difference is the same as that between songs and an album. The former makes up the latter.
A typeface is the collective name of a family of related fonts while fonts refer to sizes and styles that make up this family; Arial is a typeface whereas Arial Black, Arial Narrow, and Arial Rounded MT are all fonts.
Learn how you can handle your font distribution with Templafy
YouTube: logo inspired typography

Source
Coinciding with the launch of YouTube TV - the company's new live streaming service, YouTube unveiled YouTube Sans - its first ever corporate typeface. The simple, bold yet quirky typeface expressed a "uniquely YouTube aesthetic", and was designed alongside Saffron consultancy to be used at every brand touchpoint; with a font family including light, medium and bold weights to suit all product and marketing communication.
Detailing the creative process, Saffron explained how in order to tackle a new typographic system, existing brand visuals such as its business logo had to be reconsidered. The YouTube 'play' icon was revisited by design teams to ensure its curves and angles were perfect to the point the logo like all good business fonts, could be "typed just like any other letter or symbol".

In closely re-aligning brand visuals in order to create a bespoke corporate branding typeface, greater consistency was added to the YouTube brand; with each design element now instantly recognizable in its own right. Standing out amongst competitors in a fast moving industry, YouTube now has a modern font that "can communicate its brand with only a glance."
IBM: the death of Helvetica
After a century of Helvetica Neue, last year IBM Plex was born and has since become the posterboy for custom corporate typeface
Designed to be used across all content and platforms, IBM Plex came about after Todd Simmons– IBM's VP of brand experience and design, realized that when covering up IBM's logo, unlike all best corporate typefaces, it did nothing to reflect IBM's brand. With numerous other companies using Helvetica, IBM was missing out on a key way to engage users in its unique brand experience.
IBM Plex not only became a strategy to elevate IBM as a brand, it was also used to make a statement. Creative Director Mike Abbink gave the corporate typeface a particular 'IBMness' with engineered hard edges and humanist curves reflecting IBM's progressive 'half man, half machine' nature. The fonts themselves reflected the current and future positioning of the business.
In an interview with Fast Company, Simmons reflected on the impact of the typeface, stating: "We're on the front lines of new technologies that are going to transform the way we do things... Helvetica was designed to be neutral. IBM is not a neutral company; it's an opinionated company"
In addition to helping broadcast its mission statement, as a corporate identity typeface IBM Plex worked harder for the brand. Compared to Helvetica, typeface lettering took up less space, was easier to read - particularly as a web font on small screens and its combination of curves and hard edges meant there was flexibility to apply to 110 different languages while keeping its strong identity. According to
Quartz, pricey licensing fees resulted some IBM employees using alternative fonts - diluting the brand consistency. With full control over its own font, IBM can now grant full access to all its workforce and ensuring increased brand compliance and increased productivity - saving employees time searching through various fonts.
Essential new typeface/font tools
Typography providers such as global leader Monotype, offer designers varied support systems to ensure your business creates and finds its perfect typeface and business fonts. Its sophisticated software gives designers the ability to test different typefaces in varied mock-up situations during the review process. Easy sharing settings save designers time presenting content for approval, ultimately giving them more time to focus on design and less on admin.
More advanced designing and sharing capabilities are crucial in the creation of corporate branding typeface and modern fonts however, once chosen, it's essential that all typographic elements are easily accessible to your entire workforce. A font is like any file, it needs to be downloaded, distributed and shared, so any barriers for in this process need to be considered.
Providing your employees with a centralized asset library eliminates any difficulty accessing your corporate typeface and ensures a smooth rollout.
Cloud-based solutions such as Templafy mean the latest fonts as well as other brand visuals such as corporate logos, images and best practice templates are accessible 24/7, saving individuals time on brand compliance and giving them more time to power through their workload.